Web Development & Digital Media
I design and develop targeted websites and create digital assets such as videos, and other digital media.
Creative Services
I design and craft products and visual experiences based on a deep understanding of customer needs and psychology.
Website Design & Development
Need a website for your business? I can create a website customized to your specific business needs and teach you how to maintain it! And, if you're too busy to run it, I can keep it updated and secure.
Video Creation & Editing
I create promotional videos, corporate videos, and videos for social media. Obtain professional video services that effectively communicate, inform, and convert.
Example:
Graphic & UI/UX Design
Make a lasting impression with the right combination of colors, shapes, imagery, and words, psychologically suited to your target market for visual satisfaction and ease of use.
Development Services
With several years of development experience, I can design and build applications that make real your vision.
Digital Assistant / Chatbot
Automate your customer service and business processes by leveraging the power of Artificial Intelligence to smartly interact with your customers. Let your users interact with your business in real-time, getting quick answers to commonly asked questions, and freeing staff for other tasks. Using natural language interaction, your customers can simply type what they want to say, and the bot will offer support immediately.
Web Applications & Intranets
Beautiful and functional web applications that bring your vision into reality. I can also help with creating Microsoft SharePoint based applications and workflows to fit the needs of your organization.
Maintenance & Updates
Here to give you peace of mind when it comes to critical components of your business website, with the primary goal being to keep your website fast, up-to-date, and secure.
Proposed Website Redesign
Newark Fiber
This is a proposed redesign for the Newark Fiber website. Newark Fiber is an innovative new program that offers Gigabit and 10 Gigabit internet connections in participating residential and commercial buildings, parks, on the streets, and eventually in single family homes.
The City of Newark, New Jersey has long been a leader in canals, trains, shipping, radio, airplanes and much more. The Newark Fiber program builds on that infrastructure delivering startups, large corporations and apartment residents an unparalleled internet experience.
Website Development
SouthWard Special Improvement District
This website was created to provide and aggregate information for the residents and businesses within the southward of Newark New Jersey.
Web Application
SouthWard Procurement Portal
SouthWard SID required a Procurement Portal that is a collaborative space for all stakeholders to gain access to opportunities throughout the Newark South Ward.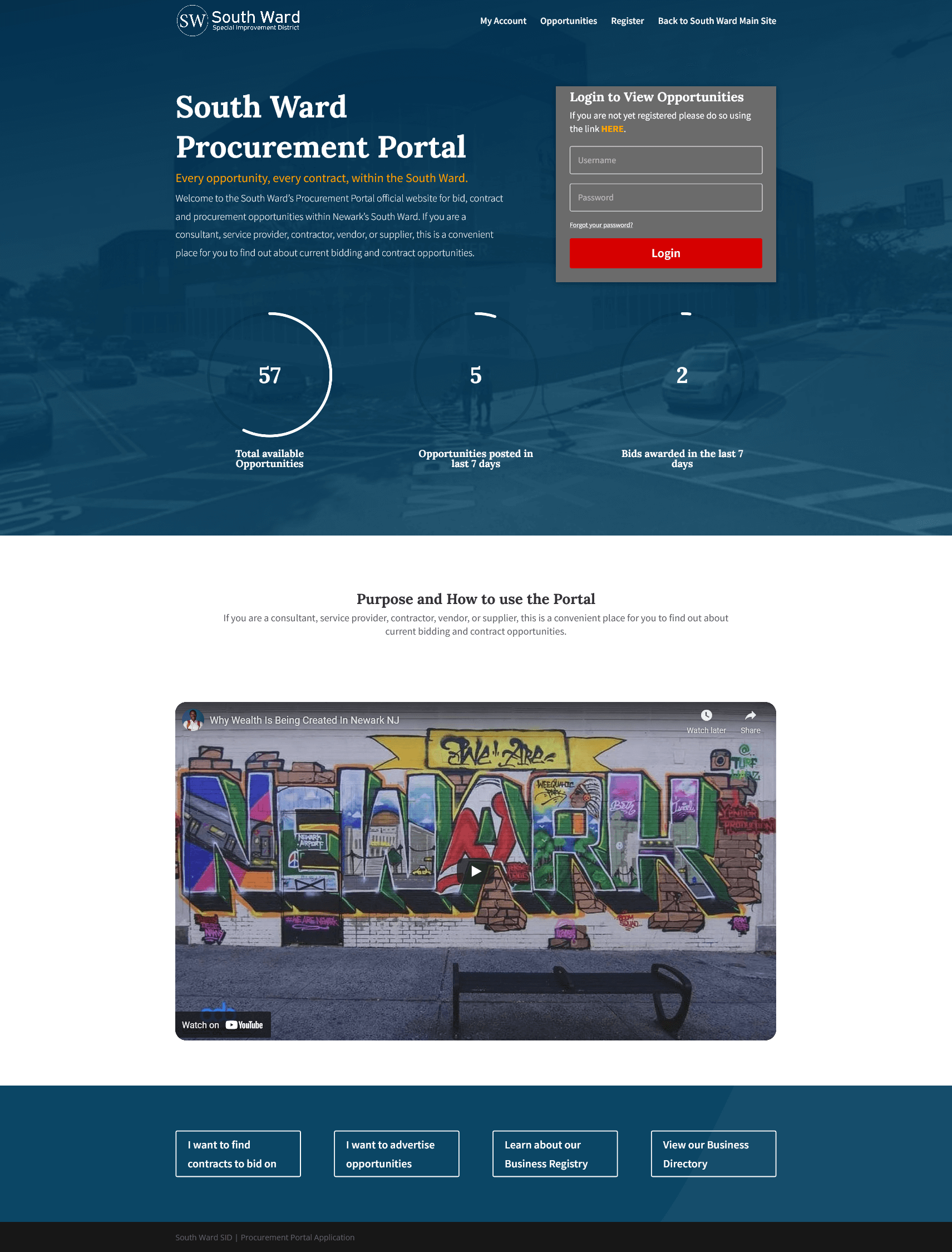 I design and develop targeted websites and create digital assets
My name is Ross, and I'm a creative at heart, a lover of pixels, video editing, and code. I create websites, design assets, videos, and other digital media that magnifies and propels reach. 
Send Me A Quick Message Here